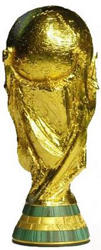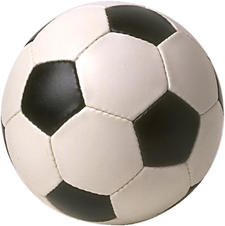 10 Apr 2008 @ 15:53, by David Bartholomew

[excerpted from DoingIt!, June, 2006]

"I Can't Stand It!"

Joan uses this saying sometimes when she is so excited about something that she is about to burst.

In receiving a great present or treat. Being in France. Being amidst flowers and beautiful smells and beauty in general. I see her rock and shake until she can't contain the joy of a kid at Christmas… bottled and aged to perfection… and then, pop!, a giggling, "I can't stannnd it!!"

This buzz is like medicine to me. The non-bitter kind which we have dedicated ourselves to releasing into the world in any and all ways that might reduce or counter the amount of spirit and soul-killing toxins ready to latch onto any one of us in a given moment. The spoonful of sugar that hopes to help the reality go down.

I get excited about things as well, but it is only when wound and keyed-up to that next level of exhilaration… that I realize how much broader my joy quotient could be stretched; how much stronger my own medicine could be.

Thankfully, the stars have aligned, and one of these special, thrill-inducing occasions (a month-long injection of rocket fuel for my soul) is before me now, as I am once again being enlivened by the World Cup!

El Copa Mundial. Soccer here. Football in the rest of the world. And purported to be of interest to over 1.5 billion of the folks on this planet whatever one might call it.

For me there have been precious few experiences that have spoken to me of the ultimate possibility in us all. And the World Cup is the current Big Kahuna of them all.

Seeing man walk on the moon, once, brought us the picture of the "EarthRise" and implanted in my brain the image of this beautiful blue sphere on which we live, a globe in front of a field of stars, and me somewhere down there. Watching the Mundial, and that other lively sphere, being fielded by stars from across the globe, reminds me every quadrennial… of me, still here… but again and again of all the precious, passionate, interesting others I may still have a chance to meet, or at least come to appreciate.

The pitch—the field of play—has stood as a series of specimen slides able, match by match, to be analyzed over time for their curative effects on the planet. Epic civil war within a country has disappeared as a country gained one of 32 invitations to come play. Old wounds between uneasy, adversarial countries have been soothed out of the good sportsmanship of players under the world microscope.

A given match may stand for all time as representative of a specific healing; but for me the greater benefit of the Cup in this respect, is in its preventative and restorative nature: for any match may stand as illustrative of healing in general.

The languages. The multi-colored smiles. The celebration that spans the globe every four years instills such a great appreciation in so many, of each other, that I have to believe that sickness and crime statistics, personal and social ills, must dip in its wake, for as long as the memories and football medicine are in effect.



***



From some of my earliest memories I remember wondering why there had been a Tower of Babel and why people couldn't speak to one another, understand or appreciate one another anymore? Why prideful celebrations of nationalism had to go so far as to negate other interesting and perhaps complementary traits, abilities and characteristics of other people?

Our German next-door neighbors, the Heinze's, had a different way of speaking, different furniture in their home, and many other expressions that allowed me to question the limitations of the sameness of just one perspective. They sponsored into their home foreign-exchange students with whom we corresponded for long periods afterwards as pen pals.

I came to collect stamps and to know the flags of other countries, a number of which are no longer the same. I learned of a number of flags designed to represent the world as a whole—The Flag of Earth, The Earth Flag, The Banner of Peace, etc.

And in 1996 one of those types of flags came through me— the One World Flag— an international symbol of diversity (www.oneworldflag.org).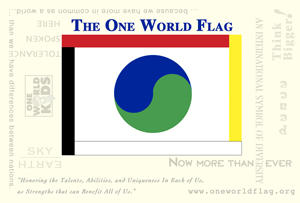 ***



And so, since a small boy, I-- in the way that most people use the phrase-- have never been able to "stand it" when the passion, the joy, the myriad expressions that individuals and nations, religions and persuasions, can bring to each other, is disregarded.

But in the way that Joan has made this expression her own and that I have happily appropriated… I Can't Stand It! when I think of all the joy that is available out of those colors common to all flags-- those of the Olympic rings, and the One World Flag; out of 22 childlike men from anywhere kicking a ball around on a field as watched by a billion living everywhere; and out of our DoingIt! together in acts so much more powerful than even this greatest of soccer matches can aspire.

Viva El Mundial! Allez to what is possible!



"... because we have more in common as a world,
than we have differences between nations."

~~ from the mission statement of the One World Flag